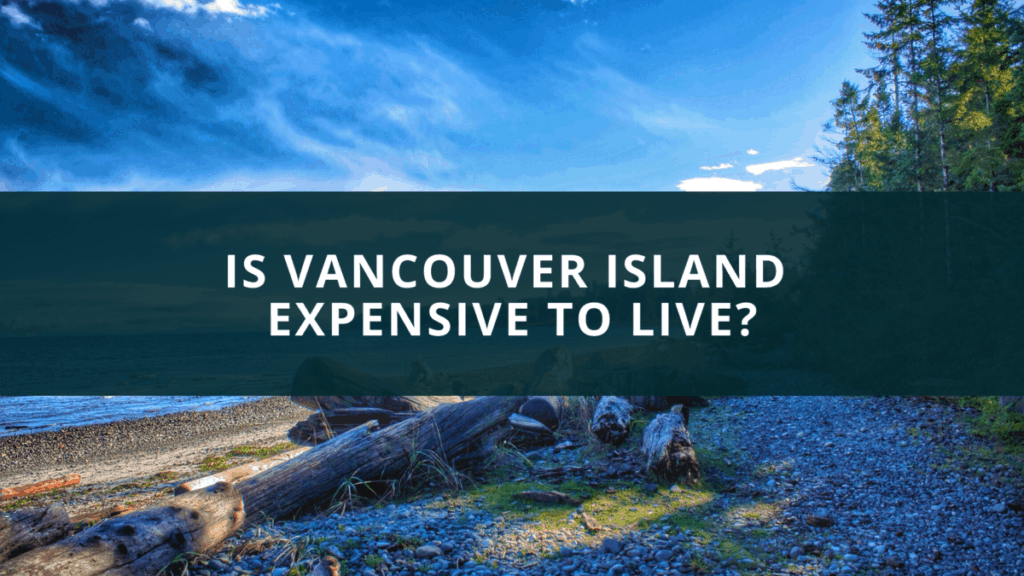 Vancouver Island is located off the west coast of British Columbia, Canada. It is a large island at over 31,285 km², with a population of just over 870,000 people. Vancouver Island – or, simply, the Island – is known for its beautiful landscapes, friendly communities, and being home to the provincial government in the city of Victoria. It has many wonderful communities to live in; in fact, of all the top-ranked BC communities, the first four are all on Vancouver Island!
Vancouver Island can be expensive to live. The cost of living in Greater Victoria has risen steadily over the last decade and housing prices have increased by more than 50%. However, there are many things that make it worth the money! Here are some examples: – natural beauty; – great selection of food; – plenty of outdoor activities; – a healthy economy with good jobs and business growth.
When looking at the cost of living on Vancouver Island, you'll need to consider a few things: the cost of housing, transportation, basic living expenses, and recreation or entertainment. Cost of living will also dramatically differ based on where you are on the Island, whether in a rural or urban community.
Generally speaking, anywhere on Vancouver Island will be less expensive than Vancouver, the most populous and expensive city in BC. However, Vancouver Island is on par with other places in BC with an overall higher cost of living than other provinces in Canada, except for Quebec and Ontario; the top 10 most expensive cities in Canada are in these three provinces.
To further analyze whether Vancouver Island is an expensive place to live, let's look in-depth at a few of the metrics used to determine the cost of living. Since it varies so much depending on where you live on Vancouver Island, I will be using a few benchmarks to compare the cost of living: Vancouver (on the mainland), Victoria (the largest city on the Island), and Duncan (a small town on Vancouver Island that represents a rural area).
Cost of Housing on Vancouver Island
The cost of housing is always the biggest cost to consider when moving to a new place. As mentioned, British Columbia has a higher cost of living than most other Canadian provinces, and that is true for Vancouver Island as well.
Buying houses in the cities versus small or rural areas of Vancouver Island differs greatly. The average price for a house in Victoria is currently $855,900 according to recent statistics. In a smaller town like Duncan, BC, the average price of a home was $687,290. Duncan is a small town of only 5,000 residents, but it is also close to other communities and not very far from Nanaimo, a larger city on the Island with a ferry terminal.
It should be noted that house prices have steadily increased across Vancouver Island each year and continue to climb.
The rental market on Vancouver Island will also vary quite a bit according to where you are based. Using this comparison tool to look at Victoria and Duncan (representing a larger city and small town), rental prices are anywhere between 20-40% lower in a small town than they are in the city.
Cost of Transportation on Vancouver Island
Transportation is always another large cost that needs to be budgeted and accounted for when moving to a new area. Most people living on Vancouver Island will commute by private vehicle, as it is the most convenient way to get around the Island. Because of this, gas is something to consider. Gas is usually more expensive on Vancouver Island, particularly in Victoria than elsewhere in BC.
Another transportation cost to consider when living on Vancouver Island is the expense to get to the mainland. It is typical that Islanders will transit to the mainland of BC periodically to engage in things like big-purchase shopping, larger medical procedures, or visiting family and friends. There is only one public ferry service – BC Ferries – and an average trip costs around $100 CAD for one vehicle and two passengers. There is also the option to take a seaplane, but that can easily cost a few hundred dollars for a round trip.  
Ferry costs also need to be accounted for when you are traveling internationally. While there are international airports on the island, many times people will choose to travel from Vancouver International Airports because there are more options. This means that ferry costs need to be part of the overall cost to travel.
Cost of Consumer Goods, Utilities, and Recreation on Vancouver Island
Consumer goods such as food, groceries, utilities, etc. are typically more expensive on Vancouver Island than they are on the mainland. For example, if you look at the two most expensive cities – Victoria and Vancouver – you can see in this comparison that consumer prices are 0.71% lower in Vancouver and groceries are also 3.16% lower in Vancouver.
If you look at smaller cities – Nanaimo on the island and Kelowna on the mainland – and compare the cost of living, you'll learn that this trend stays consistent. Nanaimo is more expensive for consumer goods and groceries than Kelowna.
Looking at the same comparison tool, prices for utilities are higher on the Island than on the mainland. However, recreation and entertainment such as the fitness club or movie theater are virtually the same.
Final Thoughts
Vancouver Island is a wonderful place to both visit and live. It is very beautiful, with plenty of gorgeous coastlines looking out onto the Pacific Ocean. The Island has a laid-back lifestyle and is a popular place for senior citizens and young families alike to live.
If you are considering moving to Vancouver Island, you'll undoubtedly be looking at the cost of living. But to answer the question, "Is Vancouver Island an expensive place to live?" you need to look at a few different categories, including housing, transportation, and consumer goods and expenses.
Prices differ significantly based on where you live. For example, this cost of living calculator indicates that a couple with no kids would not be able to live in Victoria on a combined $100,000 annual income, whereas they could easily do so in Duncan, a small city 60km north of Victoria.
Generally speaking, housing is cheaper on Vancouver Island in comparison to the mainland, especially the Greater Vancouver Area. However, consumer goods and expenses are either slightly higher or on par with the mainland. People living on Vancouver Island also need to factor in transportation costs like the ferry into their budget.
Ultimately, the specific community you live in and your lifestyle will tell you the most about the cost of living there. The best way to determine exactly how much you should budget is to use a calculator like this one to learn the specifics.
British Columbia, on the whole, is an expensive province in Canada to live in and Vancouver Island is no exception. However, it is a wonderful region of the country with many amazing communities! The natural beauty and laid-back lifestyle make it a desirable place to live and, perhaps, worth the high cost of living.