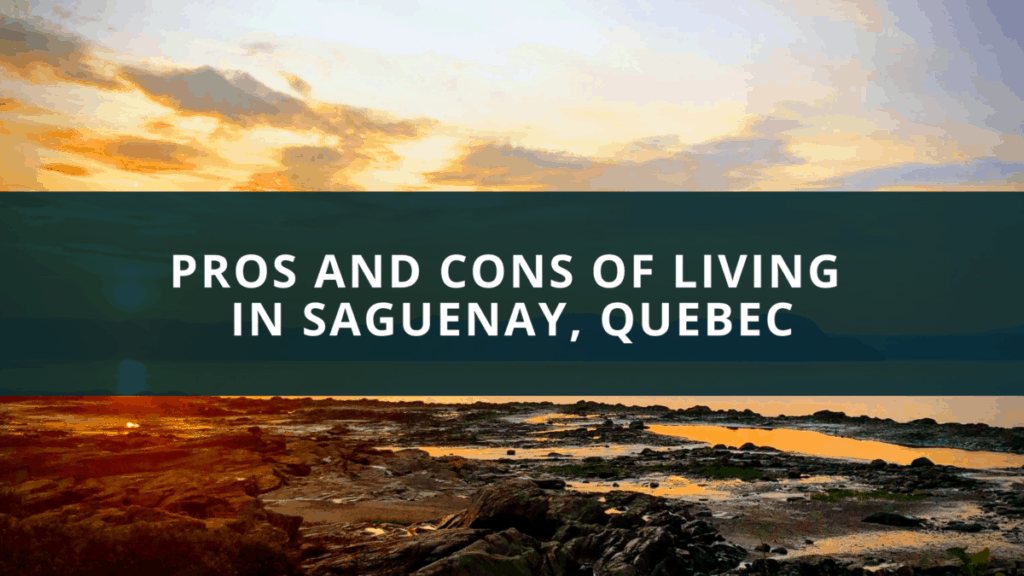 Since its establishment in 2002, Saguenay, Quebec has become a popular destination in Canada. But, if you're thinking of living in this city north of Quebec City, you might have some questions about its desirability. So, what are the pros and cons of living in Saguenay, Quebec?
Living in Saguenay allows you to enjoy affordable properties and electricity, effective transportation, high-quality health care, and a student-friendly city. However, this city isn't without drawbacks as you might experience language and cultural barriers, brutal winter, and still pay higher taxes.
Still, before deciding, you'll need to examine these pros and cons in details and how it fits into your specific situation. As such, in this article, we explore the pros and cons of living in Saguenay, Quebec, to ensure you're well informed.
What Are the Pros and Cons of Living in Saguenay, Quebec?
Living in Saguenay, Quebec, is a mixture of adventure and life. Here are some things to expect when you decide to live in Saguenay, Quebec.
Pros
1. High Quality of Life
One thing Saguenay, Quebec boast is a good quality of life for residents. This is thanks to its 82.65% safety index and 72.92% health care index, which qualifies as high, respectively. There's also a low level of crime in this city, with even fewer worries about getting robbed or mugged or getting things stolen from your home. For instance, the safety index for walking alone during daylight and at night is 100% and 95%, respectively.
Also, the pollution index and traffic commute index are very low at 7.97% and 23.67%, respectively. As such, living in Saguenay, Quebec, ensures you can enjoy the security of life and property without worries about overwhelming pollution and traffic.
2. Access to High-Quality Health Care
Another advantage of living in Saguenay, Quebec, is accessibility to quality health care. Currently, the competency and skill of medical professionals are very high in Saguenay, Quebec. There's also access to modern equipment that is necessary for the effective diagnosis of patients and treatment. So, you can get the best experience when it comes to healthcare services.
3. Affordable Properties
Property prices in Saguenay, Quebec, are largely affordable like the rest of Quebec. For instance, the cost of housing in Quebec's major cities is considerably lower than the national average. This cost is lower in Saguenay, Quebec. For instance, the average cost of a three-bedroom apartment in the City Centre is less than C$1000 per month. This becomes more desirable considering that the average monthly net income is around C$2,400 each month. 
4. Affordable Electricity
Living in Saguenay, Quebec, also allows you to enjoy affordable residential electricity. Generally, electricity in Quebec costs $0.073 compared to the national average cost of $0.179. In turn, you can save more from electricity consumption. Even better, Quebec provides electricity using hydroelectric dams, which makes it environmentally friendly and renewable.
5. Effective Transportation System
Saguenay, Quebec boasts an effective transportation system that ensures you can get from one place to another without worries. For instance, this city enjoys railway services that allow easy access to the majority of the city. Also, this city enjoys highways that connect it to other major cities like Quebec City. It also boasts the Bagotville Airport, which is useful for cross-country and cross-continent travels. Even better, the cost of transportation is also relatively cheap, allowing you to save costs.
6. Student Friendly Environment
Saguenay, Quebec, enjoys high-quality schools that provide access to quality education. For instance, Saguenay, Quebec, boasts five vocational training institutions, seven secondary schools, and 38 primary schools. This is in addition to its two colleges and one university. As such, you can be sure you can get access to high-quality primary and tertiary education. Even better, like other parts of Quebec, the cost of education is relatively cheaper in Saguenay, Quebec, compared to other parts of Canada.  
Cons
1. Language Difficulty
As at the last census, 98.9% of residents of Saguenay had French as their mother tongue. The following common mother tongue was English which was 0.9% of the total population. The reality is that unless you're a native French speaker or proficient in French as a second language, you might have some difficulties living in Saguenay, Quebec. You can, however, take this opportunity to learn French, which is usually a good plus for your career development. 
2. Higher Taxes
Like every part of Quebec, one of the drawbacks of living in Saguenay, Quebec, is that you're subject to higher tax rates. For instance, your income tax can be as high as 48% in some cases. Even more, you're also subject to double taxation when it comes to sales tax. You're expected to pay 5% as sales tax to the federal government of Canada and another 9.975% to the provincial government of Quebec on the same item as sales tax. This can lead to you expending a considerable part of your income on taxes. 
3. Difficult Winter
While winter can allow you to enjoy various outdoor sports, it can also be a difficult time for you. This is because you can best describe the winter in Saguenay, Quebec, as lengthy and unforgiving. Usually, this city and every other part of the province experiences a highly chilly atmosphere that might be harder for you if you're elderly or have got elderly ones.
4. Difficulty Accessing Hard Liquor
If you're a fan of hard liquor like sprits or wine, then Saguenay, Quebec, might be somewhat uncomfortable for you. This is because the distribution of alcohol is under the control of a government-owned network, the Societe des Alcools du Quebec (SAQ). As such, you'll find it difficult to get hard liquor in convenience stores. Instead, you'll need to visit the SAQ stores, which might not always be close.
Should You Live in Saguenay, Quebec?
Living in the city of Saguenay, Quebec can be somewhat daunting due to the drawbacks associated with it. After all, no one loves high taxes or the feeling of being unwelcome due to language barriers. However, Saguenay, Quebec, comes with a wide range of attractions that make it habitable and fun for all. Now, all you need to do is weigh the pros and cons together and decide based on your needs.