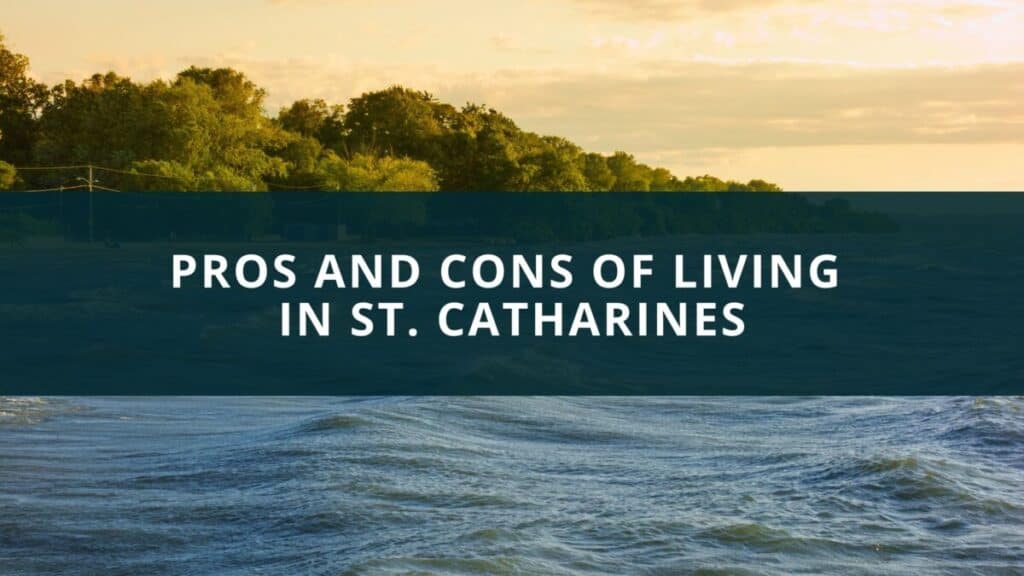 Commonly known as "the Garden City" of Canada, St. Catharines is the perfect garden retreat away from the bustling life of overcrowded urban centers such as Toronto and Hamilton. If you are looking for a place with a thriving multicultural community and an upcoming Urban Growth Center, then this is the perfect city for you.
According to Canadian Business Profit Magazine, St. Catharines was ranked as the ninth most affordable place for businesses in 2016. Since then, the city has seen an influx of financial activities, especially with many recently settled digital media businesses. Although the city is thriving both culturally and economically, there are many other factors to consider before moving. Therefore, to help you make the right decision, we have put together a list of the pros and cons of living in St. Catharines, Ontario.
PROS
1. Strategically Located
One of the best features about living in St. Catharines is that you have access to both Canadian and American markets. The city is only an hour and a half or 70 miles away from Toronto in the east. On the west, it is approximately 20 to 30 minutes or 12 miles away from Niagara Falls and the US border.
As the largest city in Niagara and the 12th largest Census Metropolitan Area (CMA) in Canada, St. Catharines is home to almost 30% of the region's population. With a growing population, the Ontario Government has identified the city's downtown area as an Urban Growth Centre. With increased government funding and investment opportunities, the city will notice an influx of commercial and recreational services.
2. Vineyards For Days
Did you know that St. Catherine is the home to Canada's largest wine festival? The Niagara Wine Festival is held every September, where wine lovers from all over the country can enjoy and celebrate the region's wines. According to Vintners Quality Alliance (VQA), the Niagara Peninsula has the highest number of vineyards in Ontario. With over 50 wineries under a 30-minute drive and some located within the city, St. Catharines is a hub of wine tasting tours.
If you are thinking about winding down, then we recommend spending an afternoon sipping on the region's finest whites and ice wines. From Chardonnays to Pinot Noirs, the city is bustling with wine fever.
3. Golfer's Paradise
St. Catharines is the perfect place for golfers. The Niagara Region has almost 50 internationally renowned golf courses, out of which two are located within St. Catharines. With 47 other courses within 20 miles of the city, golfing residents are never out of options. The oldest golf course in the city, the Fox Run Golf Course, boasts three individual nine-hole fields with a stand-alone driving range for practicing as well.
4. Amazing Year-Round Weather 
We understand that the Canadian cold weather is not everyone's cup of tea. However, if you are living in St. Catharines, you will get to enjoy mild weather throughout the year. Located in the heart of the Niagara Region, St. Catharines is known for its long summers and moderate winter spells with an average of nine days of snow exceeding five centimeters.
According to narcity.com, St. Catharines is one of the top six places in Canada with amazing weather all year round. You will find that the area's microclimate is regulated by surrounding water bodies and their brilliant topography. Combined with Lake Erie and Lake Ontario's moderating influence, the Niagara Escarpment provides a sheltering effect that helps sustain the mildly warm weather. As a result of good weather, the whole region is also known as Canada's Fruit Basket.
This means that not only will you have uninhibited access to some of the best products in the province, but will also get to enjoy a full floral bloom starting early spring. As a bonus, you are also least likely to experience a massive storm as the city only gets about five days of torrential rainfall exceeding 25mm.
5. Many Outdoor Activities
Did you know that there are over 90 kilometers of multi-seasonal trails in St. Catharines? During the summer weather, these are used for jogging, walking, and even cycling, while in the winters, they are great for cross country skiing.
Outdoor enthusiasts also enjoy 12 kilometers of the longest and oldest trail in the country, also known as the Bruce Trail. It is also a declared UNESCO World Heritage site, thus making it a historical wonder for everyone to experience.
If you like to kayak or row, there are plenty of options for water sports available in the city as well. As an insider tip, we recommend canoeing and kayaking around the Green Ribbon Trail. As a dedicated wetland for the missing indigenous children, the area's historical significance makes it an even more enjoyable experience.
CONS
1. Rudimentary Transit System
Despite being a CMA city, the intercity public transport system in St. Catharines is relatively underdeveloped. You will find that although it is easier to get around the city, many people struggle with inter-municipal travel. This includes traveling to Niagara Falls and other neighboring areas. The lack of an integrated transport system makes it difficult for locals and visitors to travel without a personal car. For instance, only eight trains are running from St. Catharines to Niagara per week.
Increasing Retiree Population
According to townfolio.co, St. Catharines has a large population of people within the 50 to 54 years age group. Although almost 64% of the population is made up of the working-age group of 15 to 64-year-olds, in less than ten years the city's retiree population will have grown significantly. However, the city's lack of adequate services such as specialized healthcare may make it difficult to support this population. An increasing retiree population without a simultaneously growing working-age population can become counterproductive for businesses and industries in the city.
2. Nonexistent Nightlife
If you are moving from any of Ontario's larger cities like Toronto or Kingston, one of the first things you will notice in St. Catharines is the lack of nightlife entertainment. Of all the articles listing down the best things to do in St. Catharines, you will find that almost all of them scarcely talk about the nightlife in the city. We also found that many of these are centered in the downtown neighborhood near Brock University thus catering to a larger student population. As a result, you will also find that the downtown area in St. Catharines is almost 35% safer than other CMA cities in Ontario.