When traveling, it is common to leave your car at home or in the airport parking lot. When you decide that you want to take a trip to Canada, this is no different.
Have you ever wondered what would happen if you decided to take a trip to Canada without your car? As a travel enthusiast, I'd like to share the top places to visit if you decide to take a trip up to Canada, along with some tips while traveling away from home.
Can you visit Canada without a car? Canada has many places to go for those visiting without a car, which include:
Columbia Icefield Skywalk
Canada is an exciting place to visit that holds something for many different types of travelers, from the stunning landmarks, friendly neighbors, to it's fun and unique culture. It's not surprising that there were over 13.25 million tourists who visited Canada in 2019. 
Check out these 10 places to visit for the next time you travel to Canada without your car.
1. Banff, Alberta
Banff, Alberta is known for its outdoor activities, beautiful mountains, and natural hot springs. The best time to travel to Banff revolves around what you would like to do while you go there. 
Do you want to head up to the ski lodge or would you like to hike around the lake? 
During the summer months, you can check out one of the many lakes to go boating, canoeing, or water rafting. You can also go horse riding, golfing, or enjoy hiking while you watch the birds and wildlife in Banff National Park.
If you are going during the winter months, the options may seem endless! Among the museums and historical sites, you also have the option to go dog sledding, take the Banff Gondola up to Sulphur Mountain, or explore frozen canyons.
One well-known destination in Banff, is the Banff National Park, a must-see location because of its dazzling turquoise lakes, snow capped peaks, mesmerizing glaciers, and overall beautiful landscapes. 
The best part? You definitely don't need a car in Banff! Among the free shuttle rides from downtown to the Banff Gondola, you also have the option of local transit, walking, and horse drawn carriages (or sleighs depending on the weather).
2. Niagara Falls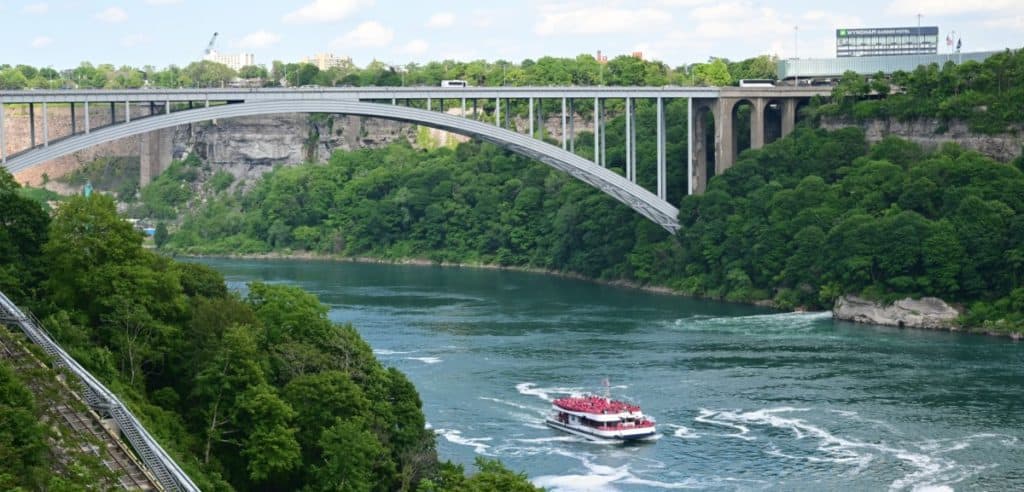 At some time in each of our lives, we have heard about Niagara Falls. If you don't remember hearing about it, chances are you've seen it in a popular show or movie.
Pirates of the Caribbean: At World's End, WALL-E, Bruce Almighty, Superman II (the 1980's version), and The Office (Season 6, Episodes 4 and 5) all have scenes displaying the magnificent falls.
Niagara Falls is known for its iconic shape, also known as the Canadian "Horseshoe" Falls, it goes through 2,271,247 liters per second. Wow! 
After arriving in Ontario, there are several options to get to Niagara Falls without needing a vehicle.
Relax on the WEGO bus

– Travels throughout the city, just check the route and time before hopping on.

Take a trip on the Niagara Falls Incline Railway

– Depending on if you are in Table Rock or Fallsview, you may be able to hitch a ride. Each car moves up and down the track acting as a comfortable and high-tech elevator system.

Plan a tour

– As a popular tourist attraction, there are a bunch of buses and cruises that you can take to Niagara Falls. Just be prepared, because you can get wet!
If you do decide to go to Niagara Falls, consider the weather before going. As an enormous waterfall there is a lot of mist and a very cool breeze.
The best time to travel to Niagara Falls is during the warmer summer months of June through August.
3. CN Tower, Toronto
Currently the tallest tower in Canada, the CN Tower creates a picturesque view of the Toronto skyline. When going through Toronto, the CN Tower is best for both thrill seekers and those that want to admire the city while dining in style.
EdgeWalk is not for the faint of heart and allows you to walk around a five-foot ledge, 116 floors high on the tower.
What is the thrill? You are outside, hands free, and held on by an overhead safety rail. If you are looking for more than walking around the circle, feel free to get printed photos leaning over the side.
The EdgeWalk operates year-round unless there are extreme weather conditions.
The 360 Restaurant has an amazing revolving view of Toronto. You might see a different part of the city with each bite! After your market-fresh meal, complimentary access to the LookOut and Glass Floor are available for each guest who purchased a "prix fixe."
Since the 360 Restaurant offers market-fresh meals, the menus will change based on what is available. It is also recommended to call ahead, or make a reservation, to insure you have a table available.
Transportation options include local buses, taxis, or any ride share service available in Toronto.
4. Yukon
Hidden in the rugged mountains of Northwest Canada, Yukon is for those that enjoy peaceful and quiet surroundings.
To enjoy either alone or with a group, Yukon is filled with Skagway Shore excursions, snowshoeing, and Yukon Wildlife Preserve & Takhini hot springs.
Above all else, if you travel to Yukon between May and October, you can experience an exquisite view of the northern lights from camping spots in Whitehorse or from Dempster Highway.
To reach Yukon, there are several different possibilities:
From Vancouver

, you can either take a boat ride or quick flight over to Whitehorse.

From Alaska

, you can travel on several different buses, going through Tok, Alaska, and Dawson City, Yukon before reaching Whitehorse (which is the capital of Yukon).

Looking for something less common but twice as amazing?

Walking and Hiking

on the Klondike Road or the Chilkoot Trail will leave you breathless (seriously) but in awe of the serene surroundings.
5. Peggy's Cove
Peggy's Cove is a charming little treasure found in Nova Scotia. Though Halifax is a small fishing town, Peggy's Cove lighthouse stands as one of the most popular lighthouses to visit in Nova Scotia.
Along with Peggy's Coves historic lighthouse, built-in 1915, they are also known for the smooth rocks near the Atlantic Ocean.
Other activities in Halifax include the Maritime Museum and the Halifax Citadel National Historic Site. All locations are only a few blocks from each other and can be reached by walking, Uber, bus, or taxi services.
While visiting Peggy's Cove, there is no need for a car, since the town is small, and several buses travel through to Halifax due to it being a popular picture spot. 
6. Columbia Icefield Skywalk
Looking for more adventure? The Columbia Icefield Skywalk is the place to go. Located over 900 feet above the Sunwapta Canyon, this glass floor walkway stretches out over 100 feet.
From this unique glass walkway, you can experience waterfalls, wildlife, and more in a new, albeit more thrilling, fashion. For those who live for thrills or if you just want to view nature at its finest, then this is a top spot to visit in Canada. 
To Reach the Columbia Icefield Skywalk, you will first need to travel to Jasper National Park, which is about an hour from Jasper, Alberta. Options include buses, rideshare services, or taxis. Once you arrive at the Columbia Icefield Discovery Center you have the option to ride the free shuttle to the Skywalk.
7. Prince Edward Island
Not only is Prince Edward Island home to several magnificent golf courses, it is also the site the 1908 classic children's novel, Anne of Green Gables, by Lucy Maud Montgomery.
Prince Edward Island is also known for the stunning red sand and tranquil hills near the Gulf of Saint Lawrence. There are several historic locations including Green Gables Heritage Place (setting for Anne of Green Gables book) and the 1834 Government House.
Not looking to visit for the history? Prince Edward Island National Park is loaded with trails, sandy beaches, and both freshwater and saltwater wetlands.
To travel to Prince Edward Island, you can enjoy a relaxing bus ride across Confederation Bridge, take a ferry, or even fly into Charlottetown airport. While on Prince Edward Island you can use the public transit system.
8. Ottawa, Ontario
Depending on what time of year you visit Ottawa, Ontario, you may be able to ice skate on one of the largest outdoor skating rinks in the Rideau Canal. Other must-experience ventures to incorporate in your visit are the ByWard Market, Parliament Hill, or going to the beach on Petrie Island (located in Ottawa River).
ByWard market is a perfect place to walk around and enjoy the open air in the center of Ottawa. Currently labeled the oldest market in Canada, you are able to shop around for fresh fruits, veggies, and check out a variety of boutiques.
You want to know what makes Ottawa so great? Most of the main attractions are located within walking distance downtown. Alternative options include the public bus system, hailing taxis, calling Uber, or horse carriages.
9. Vancouver, British Columbia
Vancouver has a number of free attractions to visit, from parks, mountains, busy shops, to the Lynn Canyon suspension bridge. Traveling Canucks shares that "Granville Street strip was once believed to have the highest concentration of neon in the world behind only Shanghai, China."
As one of Canada's largest cities, Vancouver has a plethora of indoor and outdoor activities for individuals, groups, and families. Since there is a high amount of annual rainfall, Vancouver is known for the beautiful landscapes and breathtaking gardens.
You are also able to explore the islands or go whale watching by getting on one of the many boats available in downtown Vancouver.
Since Vancouver is such a well-developed city, you can use the public transit system, rent bicycles, taxis, Uber, take the SkyTrain, or one of the many mini-ferries or SeaBuses between the islands.
10. Quebec City, Quebec
The most distinct characteristic of Quebec City besides the charming French style towns, would be the Fairmont Le Chateau Frontenac, a luxurious castle style hotel outside of Old Quebec. This charming city is full of history and culture.
The eight-floor Parliament building is another site to visit in Quebec City. Built in the 1800s, it is known for its awe inspiring architecture. Other historic sites include Plains of Abraham, Notre-Dame de Quebec Basilica-Cathedral, and the Sanctuaire Sainte-Anne-de-Beaupre.
From museums, the Quebec aquarium, to waterfalls and suspension bridges, Quebec City has something for all to enjoy. To get around Quebec City, you have the choice of public transit, taxis, or the opportunity to rent bicycles.
No Car, No Problem
The transportation system in Canada offers you several options to get around without needing to rent, or own, your own vehicle during your visit. Check out the table below, which shares the type of transportation types offered, along with the benefits, and resources.
Transportation Type
Benefits
Resources
Air

Less travel time means more relaxation time

Offers flights to remote areas

Allows you to travel to multiple cities in less time

Depending on the airline, you may save money with a flight pass

Train

Prices decrease during winter months

Beautiful scenery

You can save money with a

Canada Pass

when traveling to multiple cities

Depending on the train, there are reclining seats, restaurants cars, restrooms, and observation domes

Bus

Usually cheaper than train or air

Depending on the company, includes reclining seats and restrooms

Meal stops on longer trips

More frequent departures

Tickets can be bought early or same day

May offer discount pricing for tickets purchased ahead of time

Taxi/Car Sharing

Most flexible option

Easily found in major cities or called in advance

Flexible prices

Includes a variety of makes, models, and colors at different price points

Ferry

Allows you to travel between islands

Reasonable fares

Diverse destinations

Can purchase tickets early or same day
Remember: Not all options may be available depending on the location and time you are traveling.
Prepare for Canadian Weather
The weather you experience in Canada will differ based on your location and the time of the year that you are visiting.
For example, if you decide to travel to St. John's, Newfoundland just remember that, according to Current Results, there is an average of 131.9 inches of snow each year. Montreal, Quebec on the other hand, averages around 82.5 inches of snow a year.
Due to being so far North, Canada is known for their harsh winter weather. If snow really isn't your cup of tea, you can plan on traveling during the warmer months of June through August. Alberta averages between 68 to 77 degrees during the summer months but can climb up to the 90s.
Tip: Before you decide to travel to Canada, check out the weather forecast so you can prepare for your trip.
Now it may seem like you are going to have to pack a plethora of different outfits so you can be ready for the intense weather, right? Worry not, we have you covered! Check out the next section to learn more about what to bring during your trip to Canada.
What to Bring
The most dreaded question before actually being able to travel: What do I bring and what should I wear? 
There are lists upon lists of items you can bring on your trip. But, which one should you check out? Authentik Canada provides travelers with a printable checklist that includes everything from important documents, clothing, accessories, to toiletries that will help you specifically during your trip to Canada.
Before traveling, you should also ask your insurance company about travel insurance. Most companies have additional plans available for travel. Coverage will usually help against travel cancellations/delays, medical emergencies, and lost luggage.
Remember: If you are traveling from outside of Canada, there is a chance that you may need an electronic travel authorization (eTA) visa. For more information on how to apply for an eTA, go here.
Until Next Time
As you can see above, there are many options available when you are traveling in Canada without a car. Before you decide to go, make an itinerary and find out what types of travel are available and when. This will also help because you have a chance to save money by booking early.
Canada holds many different national parks, waterfalls, a number of small towns, and large cities to explore. Known for the abundantly kind people, Canada is a must visit spot.
Though booking tickets and figuring out travel plans can seem like a pain, just remember to have fun and relax. You'll be amazed at the stunning spots that you don't need a car to get to in Canada.