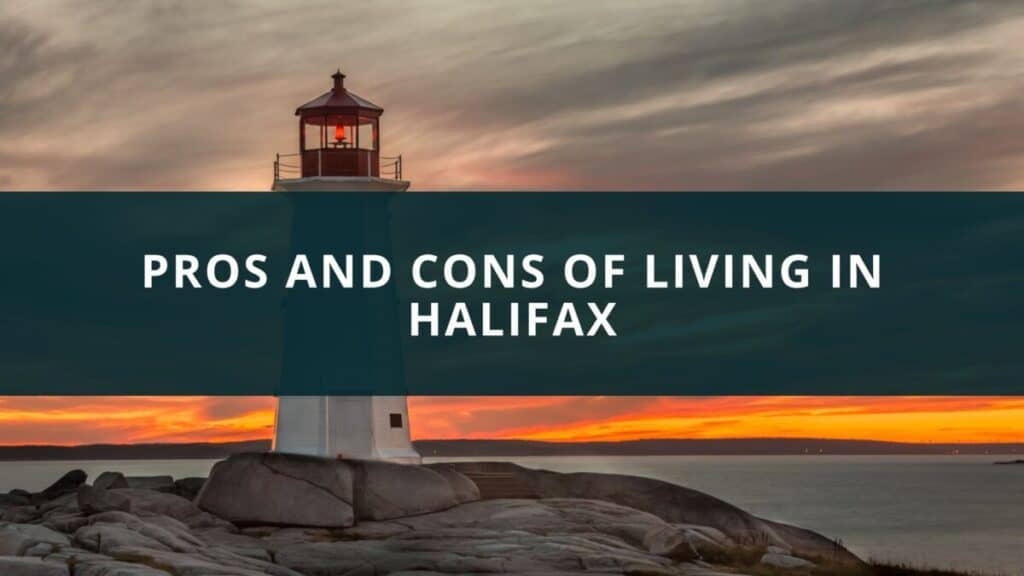 The capital city of the Nova Scotia province officially referred to as the Halifax Regional Municipality (HRM). This regional municipality is made up of four municipalities amalgamated in 1996 they include the city of Halifax, Halifax county, Dartmouth and Bedford.
Halifax is a slower paced city compared to the popular canadian cities like Toronto, Montreal, or Vancouver but this city that sits on the Atlantic coast with its sedentary scenery has a lot to offer, this article highlights the positives and negatives of living in Halifax, Nova Scotia. This could be very helpful if you're looking to make a move to this area.
Pros of living in Halifax, Nova Scotia
1. It is a beautiful city
Halifax's view is a delight for any nature lover, from the beautiful view of Peggy's cove lighthouse where the ocean provides a natural backdrop to the brilliant landscape sight of the cape Breton highland, also including the green of the springhills and provincial parks, Halifax is indeed beautiful.
From community to community, its brightly painted houses and attractive scenery is consistent. If you would absolutely love to live in a peaceful and calm environment then Halifax might just be the place for you.
For ocean lovers, Halifax faces the Atlantic ocean directly on the east coast of Canada and adds to the overall beauty and serenity of the area.
2. Housing in Halifax is cheap
Halifax is a hot market for renting or buying houses these days, compared to Vancouver, Toronto, and Montreal -which are the major urban cities in Canada accommodation here is cheaper and affordable. The cost of renting an apartment is about 40 percent cheaper than in Toronto.
3. Transportation in Halifax is flexible and easy
This city is relatively small and moving around it is very easy. It is usually by one of four methods -walking, cycling, driving your own car, taking the public bus. If you live within the downtown core where services and retail stores are more readily available you might prefer to walk or bike, but if you live outside the main hub you might need to drive to get around or take public transit.
The public transit buses are very affordable and take routes around the city and surrounding areas, costing about $2.75 for a single adult fare.
Halifax has also invested in paths and trails for cyclists and even has a Halifax cycling coalition.
It's well planned and broad roads ensure that traffic flows smoothly and very fast, it's low population density is a plus and this saves a lot of commute time.
4. Education in Halifax is good
Public education in Halifax is free for children from grade one up until the end of high school like it is in the rest of Canada. There are about one hundred and thirty-six public schools registered within the area and about fourteen private schools operate independently in Halifax.
In addition to quality teaching and advanced level studies, the school curriculums provide options for extracurricular activities involving sports, arts, music, and even after-school programming.
Options for post high school studies within the area include colleges and universities with a wide range of several diplomas and certificate programs like Mount Saint Vincent University, the University of King's College, Dalhousie University, Saint Mary's University, and the Nova Scotia Community College which is the local community college.
5. A growing economy
Halifax is a major business hub in eastern Canada and serves as the banking, government, and cultural capital for the maritime region. It's largest industries providing employment include health and social assistance services, trade, public administration, education and professional services.
The rural areas of Halifax are also largely invested in activities like agriculture and farming, fishing, forestry, mining, and natural gas extraction which involves major resource industries found in the municipality, resources like clay, gold, shale, limestone, and gypsum which are extracted within the region.
In recent years, following the construction of new property, there has been a real estate boom in the area including the gentrification of some old working class areas.
Cons of living in Halifax, Nova Scotia
1. Wages are poor
The minimum wage in this province was at $11 till it was increased by barely fifteen cents recently and job offers are not so much so job seekers usually settle for what is available. Although housing is cheap in this area, everyday essentials like groceries and gas take up a big chunk of its residents' earnings. Residents are however rallying for an increase in pay up to $15 for minimum wage.
2. Higher Tax
The government of Canada needs a lot of money to function and gets a fraction of this from its citizens as tax. This province does not have a lot of big corporations that could provide the government with funds, so the residents bear the brunt of this and end up paying tax at rates higher than any other province in Canada.
3. There are not a lot of job opportunities in Halifax
This is a major problem for people living in this province, there are not many available jobs and it is difficult to get a stable job. There might be seasonal work, like a few more opportunities in the summer but because of the low population in the area, jobs do not become readily available, those with jobs already do not simply leave their jobs so there is a huge demand for work amongst residents.
The jobs that are available sometimes are nor suitable for just anyone, they require a bit of expertise most times. For instance, because of the fishing culture, a boat operator might be needed or construction in its developing areas might need manual labour, not a lot of people have the skills for these, this might make it hard to secure a job.
4. It is an introverted city
For the family-oriented person, who is satisfied with calm, quiet, serenity, and time spent indoors this might not be much of a problem, however, a more extroverted person might want more from this city.
It is not that there are not peaceful and loving people but it isn't exactly a city that stays awake around the clock. It is a lot more fun in the summer when tourists swarm the city but the city might not be as fun and bubbly when they are away.

Is Halifax a good place to live?
Halifax provides a great scenic experience, the city is colorful and beautiful, the lifestyle is calm and serene. However, one might need to consider the reality of finding a good, well-paying job before making a move here.