Are you planning to live in Ontario? Ontario is a place with beautiful landscapes, which attracts many visitors across the world.
Its gorgeous views are mesmerizing enough to attract people. However, if you are planning to shift to a new place, the landscapes are not enough to continue everyday life. You will need to know a lot more before settling in the city.
If you are planning to move to Ontario, Canada, there are things you need to know about the place. For example, the living cost in Ontario, or how much you can earn here?

Apart from this you also need to know about the culture of Ontario. Before you move to the province, find out as much as you can about the place you will live.

Once you move there will be no going back. For you, I have brought you this article where you will find the pros and cons of living in Ontario. I hope that this can help you to decide if this is the best place for you to live in.
About Ontario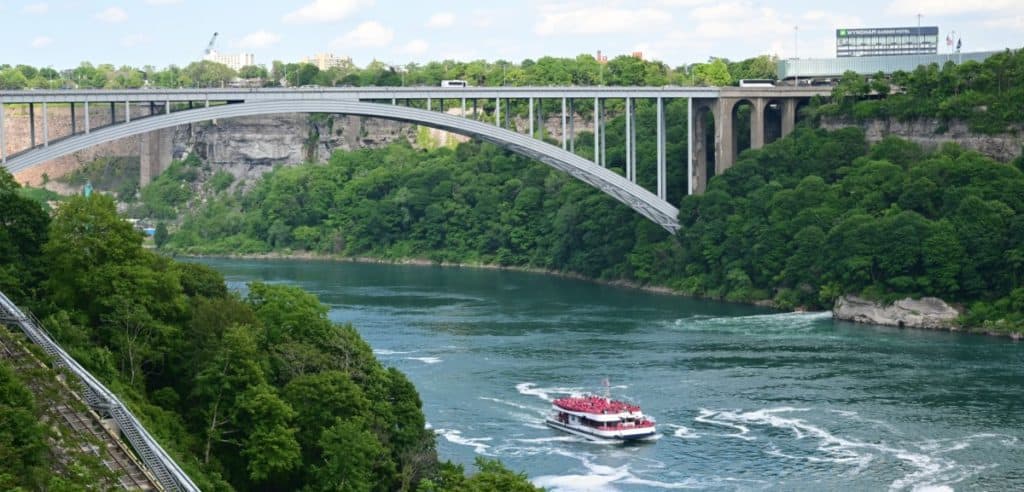 Ontario is one of the 13th regions of Canada. You will find it on the east-central side of the country.

The country is popular among tourists and newcomers to its surroundings. It is also one of the most populous places in Canada.

The capital city of Ontario is Toronto, where 6 million people reside, making it the area with the most population.
Toronto is the center of financial gain in Ontario. In the city, about half the population are people from other countries. Hence the city has many cultures surviving within the surface of Ontario.
What makes Ontario tick among people?
Although Ontario is the heart of finance in Canada, it also has beautiful surroundings that capture the hearts of tourists. It has parks, forests, and beautiful greeneries all over the land.

The famous Niagara fall is here in Ontario.
Apart from that, it has 250,000 lakes on its landscape with 1/5th of the pure water lies here on the surface. The diversity between nature and culture draws people toward the place.

In some places, there is a saying that you will find a taste of many cultures together if you visit Ontario.
Benefits of living in Ontario
Many job opportunities are waiting for you there
In Ontario, there are many types of industries. Due to this many job opportunities are thriving in the region. Ontario is the core of the economy of Canada. Hence the cities of Ontario are providing opportunities to the people who are living there.
The industry services make employment available such as scientific and technical services, business and professional services, and arts and cultural services.

If you are willing to shift to Ontario there should be no problem finding a job of taking the next steps to your career in Ontario.
High income in Ontario
In Ontario the lifestyle and the living standards are high. Although if you compare the living cost in Ontario, as it is with many other countries the cost is high.

Due to housing, this situation cannot be avoided. However, People living in Ontario earn $73,700 in a year. Internationally, this is a bit above the average rating.
The main cities of Ontario, Toronto and Ottawa, Montreal and Quebec City, are known as one of the best cities to live in. Both cities are known to provide security, clean, good services, etc.
Ontario is the target for many foreigners to arrive and settle down. Every year 250,000 people enter Canada. They want to settle down in Ontario and enjoy a quality lifestyle.
Enjoy nature, greenery, freshwater, mineral rocks, and more
As you already know that Ontario is rich in biodiversity. There are many parks and forests in Ontario. Nature is well preserved and maintained in the place.

For this, there are 200,000 direct and indirect jobs in the forest. People from 260 communities of Ontario work in the forest.
Thus even with a high population, there are no unemployment problems in the region of Canada. As new job options are introduced for the people.
Manufacturing of Ontario brings more income
Ontario manufactures automotive, biotech, information, and technology, communication devices, pharmaceuticals, etc.

Ontario is one of the main exporters in North America. Some studies show that among the automobiles that are produced in Ontario 88 percent of them were transported to North America.
The manufacturing business of Ontario is worth $256 billion of shipping. It has the third-largest manufacturing industry in the world with most employees working in Ontario.
Mining in Ontario also brings more money
In 1866 there was a gold rush in Ontario, Canada. After that Ontario is doing well with mining and metal production to this day. In the region, 25 types of metal are produced from the place.

Similarly, many non-metal mineral products are also extracted from the heart of Ontario.
Stones of Ontario are also distinct from other parts of the country.

These stones were especially used to build the Canadian Embassy in Washington. It was also used to make the legislature and parliament buildings of Ottawa.
The rocks of the province are a great source of minerals. It covers two-thirds of Canada's rocks with sediment rocks that are rich in costly minerals.

They also contain important deposits on the rocks. Overall, the rocks of Ontario are of great value and quality.
Ontario is the source of Canada's metal production, such as;
Platinum 84%

Gold 52%

Nickel 43%

Copper 38%
Fresh food right from the farms
The farms in Ontario are the best quality there is. You will find 51,950 farms in Ontario. Hence people in Ontario can produce:
Fruits

: grapes, berries, apples, and other tender crops.

Vegetables:

Crops such as mixed grains, soya beans, forage, barley, wheat.

They can produce their own flower and decorative plants.

There are also dairy farms like beef cattle, poultry farms, etc.
Mix culture people keeps you connected to your home
Ontario is a place filled with expats. People come from around the globe to live and stay in Ontario. So, you can expect to find many cultures living in harmony in this place.

Being multicultural Ontario accepts many foreigners and welcomes them with a warm heart. Any new immigrant can easily find a place in Ontario.

There are different communities in Ontario. You will need to find your community to blend in well with others.
Ontario's friendly atmosphere has a reputation around the world. New people are always welcomed here. Many sports, academic, and cultural events are hosted in Ontario.

Toronto hosts an international film festival, where you will find actors from different backgrounds attending the event.

Ontario is a place where many cultures unite and accept each other.
Get free Healthcare benefits in Ontario
Under the law of Canada, all the citizens of the country have the right to make publicly funded treatment. It means that the basic healthcare services will be funded, and the patient doesn't need to pay for the service.
This applies to all the residents of Canada. Some medical services that are not necessary are not funded. These include cosmetology, dental care procedures, etc. But, basic healthcare is covered by the government.
Efficient immigration offices to deal with millions of immigrants
Most of the people who want to settle in Canada are looking for places in Ontario to live in. Hence Ontario has its own Opportunities Ontario Provincial Nominee program.

The program allows them to track immigrants who can contribute to Ontario's needs. So, their request is accepted faster.
Even though the number of immigrant applications each year is too much for one office to handle. Many government agencies, non-profit organizations work together to get the skills they want in Ontario. So, if you want to settle there the immigration process will be faster to deal with.
Education systems are good in Ontario
Ontario's education is well known around the world. Queens, Toronto, York University all are here in Ontario. Some of the world's leading research centers are located in the province.

The education for a kindergarten is supervised by the Government of Ontario. The teaching system follows the Catholic and French education system.

Education is funded by the taxpayer. Apart from that, there are many areas with schools that are publicly funded.
The higher class education includes technical subjects and other subjects with direct entry to the workplace. New rules are updated to maintain the school's education quality regularly.
The post-secondary education in Ontario consists of technology, agriculture, and many other programs. There are some unique programs available there are well.

As it is with primary education, some post-secondary education is also publicly funded.
Life in Ontario
If you have decided to live in Ontario, then there is one certainty that you will enjoy your life. There are plenty of places to visit with your family and friends.

You can spend time in bars, theaters, museums, restaurants, amusement parks, and many others while you are staying there.
Apart from that, there are cultural events, concerts, festivals, sports events you can visit.

There are also parks and views of nature, clubs and many other activities that you can enjoy in Ontario.
Drawbacks of living in Ontario
Weather in Ontario can be too cold
If you are willing to shift and live in Ontario, then you need to know about the weather conditions there as well. Now the problem with this topic is that Ontario is too big to give you an idea about the weather.

Weather conditions may vary in different regions of Ontario. When you are going to shift to a city, you should find out about the climate of that city in particular.
In Ontario, there are four seasons, summer, winter, fall (autumn), spring. In most places, January is the coldest month, and July is the warmest. The northern Ontario is colder than the southern part.
Winter starts in the last week of December. It continues until mid-march. The temperature of Ontario could fall as low as -30 degrees. You can expect it snowing often in winter.

It can be fatal to go out in the winter without proper clothing. People wear layers of warm clothes are to protect themselves from the cold weather.
Spring follows right after winter. In spring, there is occasional rain in Ontario. So, it is best to carry your raincoats and umbrellas to keep yourself safe. The temperature rises to 8 degrees in spring. So, it is moderately cold in the spring.
Summer starts in the last week of June. After winter the weather keeps rising gradually. The temperature in summer can rise up to 30 degrees.

At this time, the weather is hot and humid. However, while you are out, you can wear hats and sunscreen to protect yourself from the heat rays.
Fall (Autumn) the temperature starts to drop again preparing you for the shivering cold in winter. The days get shorter, and in some parts of Ontario, there maybe rain.

In any case, since the northern side of the region is colder, it may start to snow in October. It is during this time the tree leaves fall out and the season changes color.
Living cost in Ontario
As you already know Ontario has a high population. Due to this reason, the living cost in Ontario is pretty high comparing to the other areas of Canada.

However, it does not mean that Ontario is not a good place to live. Remember you can earn a lot in Ontario, so the high living cost can easily be paid off.
People to want to enjoy life in Ontario tends to settle in smaller towns near Ottawa and Toronto. So, they can pay less rent and enjoy living in Ontario.
Tax to pay in Ontario
Here is another drawback of Ontario which you may want to consider before shifting there permanently. The tax rate is really high in Ontario.

Although each citizen has to pay the taxes imposed on them. The government makes it so, that one tax is paid by each person.

So, there is no trouble of running to different offices and paying each tax separately. After you have paid, the government divides the total amount for all the taxes.
The tax that is levied upon you depends on your income. For this, the federal government made the tax brackets.

There are higher tax brackets and lower tax brackets. You will need to find out in which bracket you fall with the amount of your income. In simple words, the higher your income is the higher tax is imposed on you.
If you want to know how much tax you will be charged, you can follow the list below the recent tax rates of Ontario.
Ontario provincial tax
5.05% for taxable income of $43,906

9.15% for a part of taxable income of $43,906 – $87,813

11.16% for part of taxable income of $87,813 – $150,000

12.16% for part of taxable income of $150,000 – $220,000

13.16% for a part of taxable income of above $220,000
Federal tax
15% for first taxable income of $47,630

20.5% for a part of taxable income of $47,630 – $95,259

26% for a part of taxable income of $95,259 – $147,667

29% for a part of taxable income of $147,667 – $210,371

33% for a part of taxable income of above $210,371
When the provincial and federal taxes are combined together, it is called the combined tax. A person living and earning money in Ontario will be charged with the combined tax.
In the highest tax bracket, another tax is added to the payer. It is called the surtaxes. For the lowest tax bracket, the tax could get as high as 20% of the income.

However, in the highest tax bracket, the tax can be as high as 53% of the income. Hence, some may not appreciate the high tax rate of Ontario while living there.
The high population of Ontario
Ontario has a high population. There are around 13.5 million people in the province of Canada. Many of these people live in Toronto or the suburbs of Toronto.

The largest city of Ontario is Toronto, it is also the largest city and capital city of Canada.
Toronto is home to 2.8 million people in Canada. It is the fastest and largest growing city there is. More people are still coming to Canada, only to find a place to live in Toronto or nearby.
After Toronto, Ottawa is the second-largest city in Canada. It is home to 1.3 million people in Canada. These are the two major cities of Ontario, and both have a high population.

There are other cities in Ontario which are also home to many immigrants such as Montreal, Quebec City, London, Sudbury, Kingston, Hamilton, and Windsor.
Since Ontario is home to so many people, the population density can cause problems such as traffic jams, crowded places, and high living costs.
Conclusion
If you have read all the information then you know a lot about Ontario already. There are three major problems in Ontario, high tax, high rent, and high population and weather.
We have already discussed that high rent can be paid off with the income you get in Ontario. You will have to deal with the high rent and crowded areas to live a quality life in Ontario.

Look at the bright side rather than the drawbacks of the place. If you can maybe you will get to live a better life by shifting to Ontario, Canada.
Related Content